làThe place for the gastronomic lovers100 % localTop Posted on 30.11.2022
Are you discovering Caen and don't want to miss out on the local specialities? This top 8 is for you! To be tried on the spot or to take away as a souvenir, we have selected for you a selection of typical Norman and Caen products.
1# Tripe à la mode de Caen
When you think of Caen, you immediately think of tripe. It is to the monk Sidoine Benoit that we owe the Caen-style recipe. As a cook at the Abbaye aux Hommes, he began to simmer the four parts of the beef stomach, to which he added the feet and aromatic condiments. This ancestral recipe is today a traditional dish recognised, notably by the famous Tripière d'Or competition!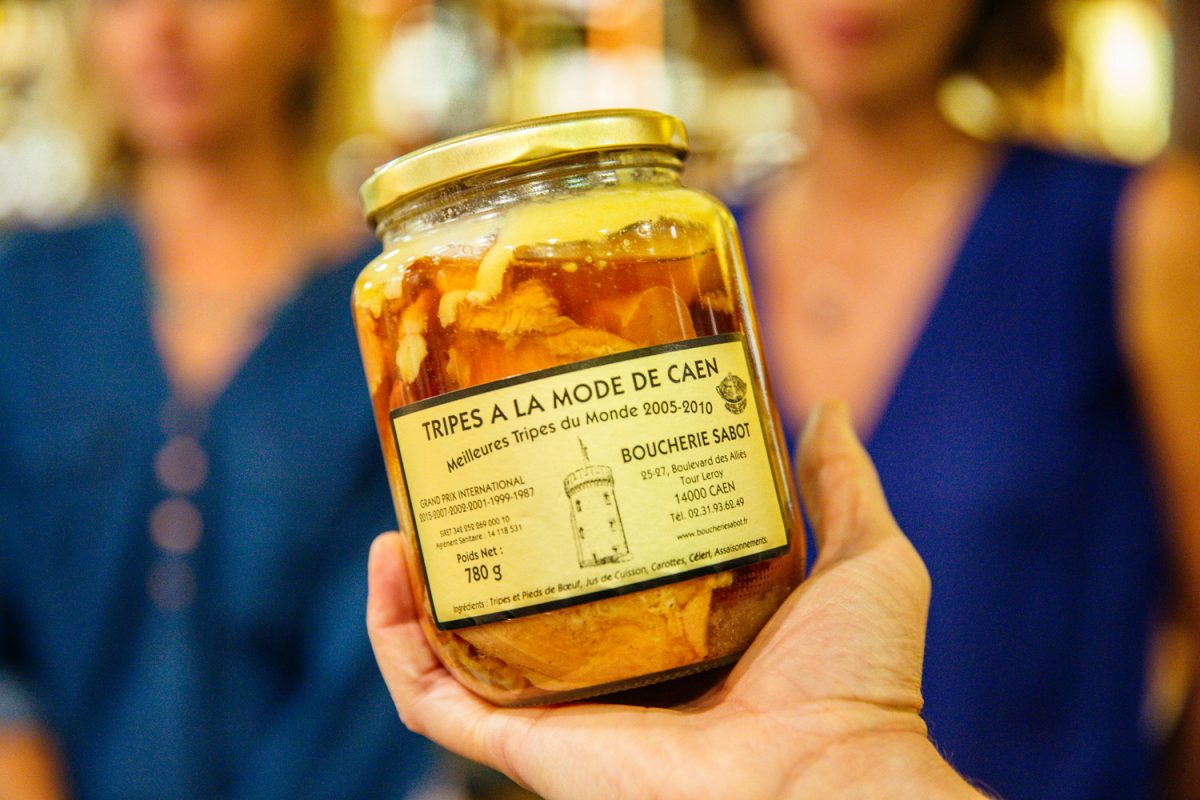 Where to find it?
2# Teurgoule
Invented in the 18th century thanks to the sailors of Honfleur who brought back rice and spices from distant countries, teurgoule is a kind of improved rice pudding. The secret of its success? Its long cooking time in the oven and the cinnamon. As for the origin of its name, there are several explanations. It is said to have been eaten as it came out of the oven by hungry peasants who burnt their palates to a crisp. The unknown flavours of exotic spices would also have provoked a strange reaction from the Normans.
Where to find it?
In some bakeries, cheese shops or delicatessens in Normandy (on order).
On the markets, especially the Sunday morning market in Caen.
To take away in souvenir shops and delicatessens. On sale in a jar at the Caen Tourist Office or in a bag to make your own at home at the Ouistreham Tourist Office.
3# L'Embuscade cocktail
A famous cocktail invented in Caen, l'embuscade (the ambush) lives up to its name. A clever blend of white wine, beer, blackcurrant syrup and Calvados, "l'Embu" is sweet and easy to drink until it ambushes you.
Where to find it?
Exclusively in the city of Caen or its surroundings! Most bars in Caen serve it. You can order it in pints or pitchers.
Easy to reproduce at home, we give you the recipe: 20 cl of lager / 12 cl of white wine / 8 cl of old Calvados / 4 cl of blackcurrant syrup / 4 cl of lemon juice
Alcohol abuse is dangerous for your health. Drink in moderation.
4# Madeleines Jeannette
With its tumultuous history and its know-how recognised as a Living Heritage Company, Madeleines Jeannettes have been an institution in Caen since 1850! These sweet treats come in many flavours. With no preservatives, colouring or artificial flavouring, you are sure to enjoy them!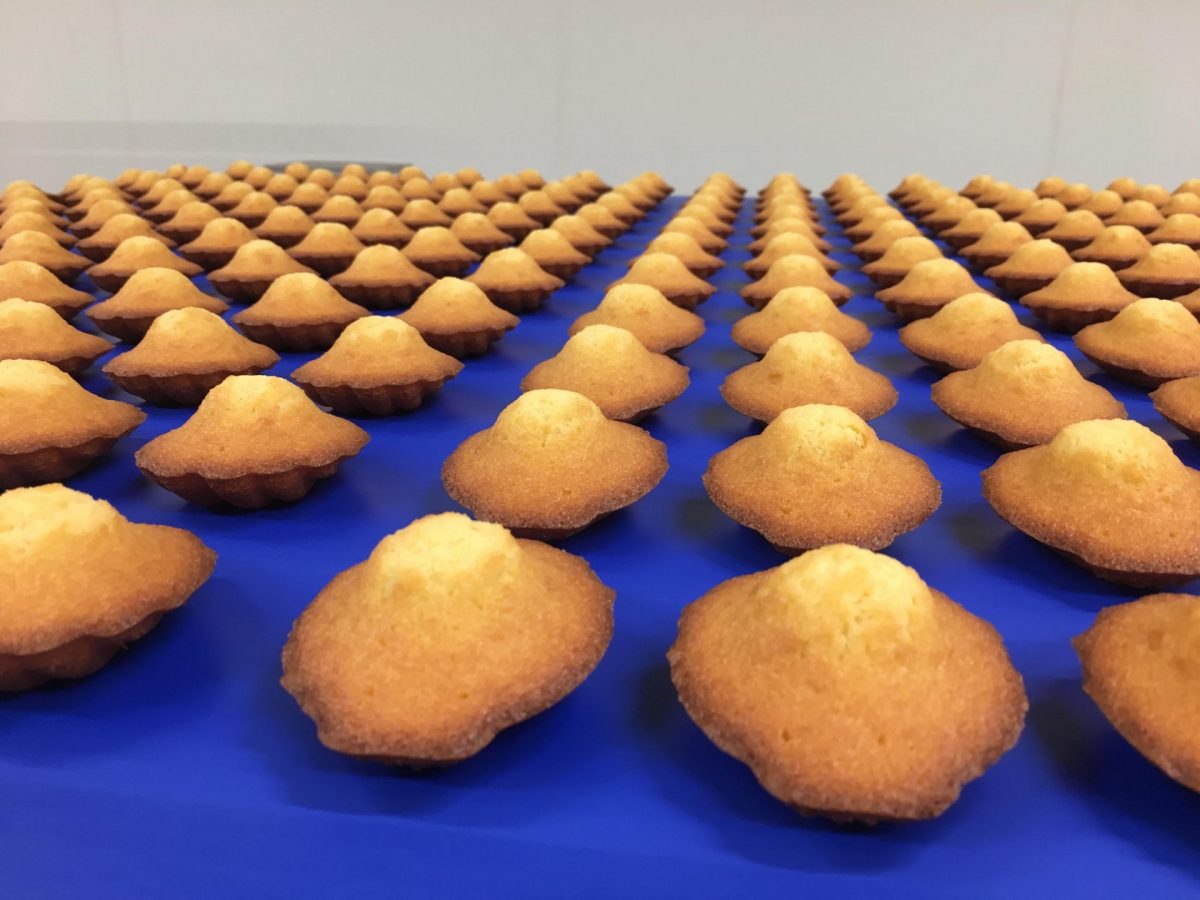 Where to find it?
5# Les fromages normands
You can't think of the local specialities of Normandy without thinking of the delicious Norman cheeses! Camembert, Pont-L'Evêque and Livarot can be eaten plain or with a good piece of bread.
Where to find it?
Visit our partner cheese dairies, which will be happy to advise you!
6# The scallop
The star product of our plates in autumn and during the end of year celebrations, the shell is eaten from October to April. After a visit to the typical fish market in Ouistreham Riva-Bella, don't hesitate to taste it directly in the restaurants along the coast. Some even offer a 100% shellfish menu from aperitif to dessert during the peak season!
Where to find it?
7# The fallue
This typically Norman brioche goes perfectly with teurgoule or milk jam. Its oval shape and its serrated slits on the top will make it easy to recognize. Before the "galette des rois", it was the "fallue" that was eaten in Norman homes on Epiphany.
Where to find it?
Fallue can be found in some traditional bakeries, especially in western Normandy. In Caen, several bakeries offer it.
La falancelle in the Caen castle offers fallue revisited in a sandwich. A contraction of the words "Fallue" and "Mancel", this ephemeral stand is open during the season near the Mancel Restaurant.
8# Le cidre et le Calvados
Of course, cider is also a local speciality to be tasted ! The "gros bère" as they say in Normandy has much more flavour and complexity than you might think. Easy to serve as an aperitif or with a meal, Norman cider brightens up any table. Mild or brut, it can be enjoyed all year round. And for a change from the classics, try ice cider or perry. To finish a meal as a digestive, don't miss a good aged Calvados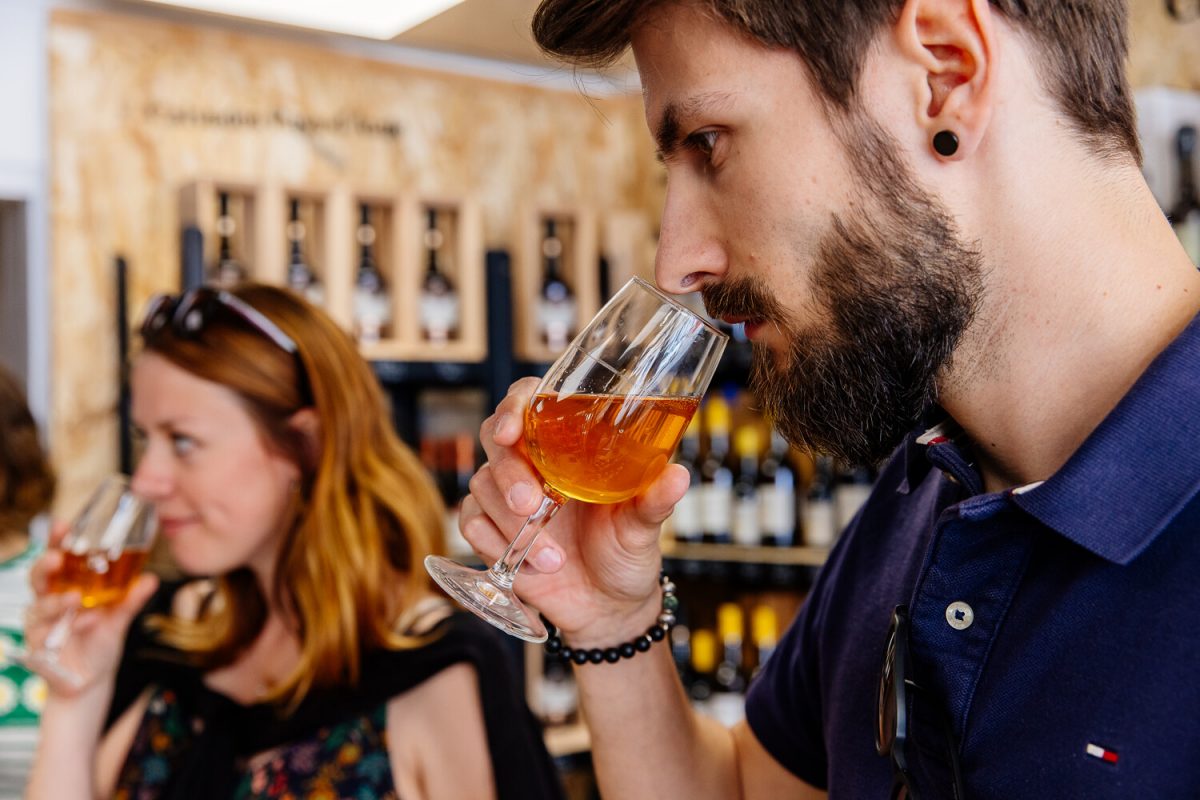 Where to find it?
We like
Delicatessens full of Norman products
Discover truly local specialities
Meet passionate food professionals