làThe place to beRelax Posted on 19.04.2021
There are many different bookstores in Caen: general, specialised, new and secondhand bookshops. But beyond the paper and ink scents of these independent bookstores of Caen, these places also hide pretty things, waiting to be discovered. Unusual settings, cafe-bookstore or major literary events, there has to be a book we need to find in Caen!
The bookstores tour
If we had to choose a bookstore with an unusual setting, it would definitely be the Librairie Guillaume, on Saint Pierre Street! Dating back to the 18th century, this mansion was turned into a bookstore in 1903. It was the year its photogenic façade was built as a symbol of love for sciences. On the inside, the typical Caen stone, the wooden floor, the cement tiles and the tidy shelves incited us to stay on to browse, looking for and sharing ideas on what book we had to read.
As we walked through the Rue Froide, we entered the street of the comic book shops. Cour des Miracles, Univers Bd or BD'Art are comic book stores which offer pleasant selections of comics with diverse universes, either brand new or second-hand. We strolled down this picturesque street until we reached the corner bookstore: Mémoranda.
As soon as we entered Mémoranda, the change of atmosphere was immediate. We felt like we had time-travelled to a different era. The piles of second-hand books plunged us into another universe. The place made us want to stroll through the many shelves in order to find the perfect dusty old book we dreamt about. For those who like a bite to eat while they read, Mémoranda is also a café-bookstore. We sat comfortably to read a good novel as we savoured home-made pastries and hot chocolate. A calm episode in the heart of the city. One more address to add to the notebook.
Unusual places
In the village of Verson, close to Caen, it is possible to visit the house of Léopold Sédar Senghor and his wife Colette, on limited open dates. Poet, writer, French and Senegalese Statesman, Senghor was the first President of the Republic of Senegal. He spent the last years of his life living both in Paris and in Verson, which was the native village of his wife. Free visiting tours are often organized by the Présence Senghor à Verson association.
A place where it feels good to read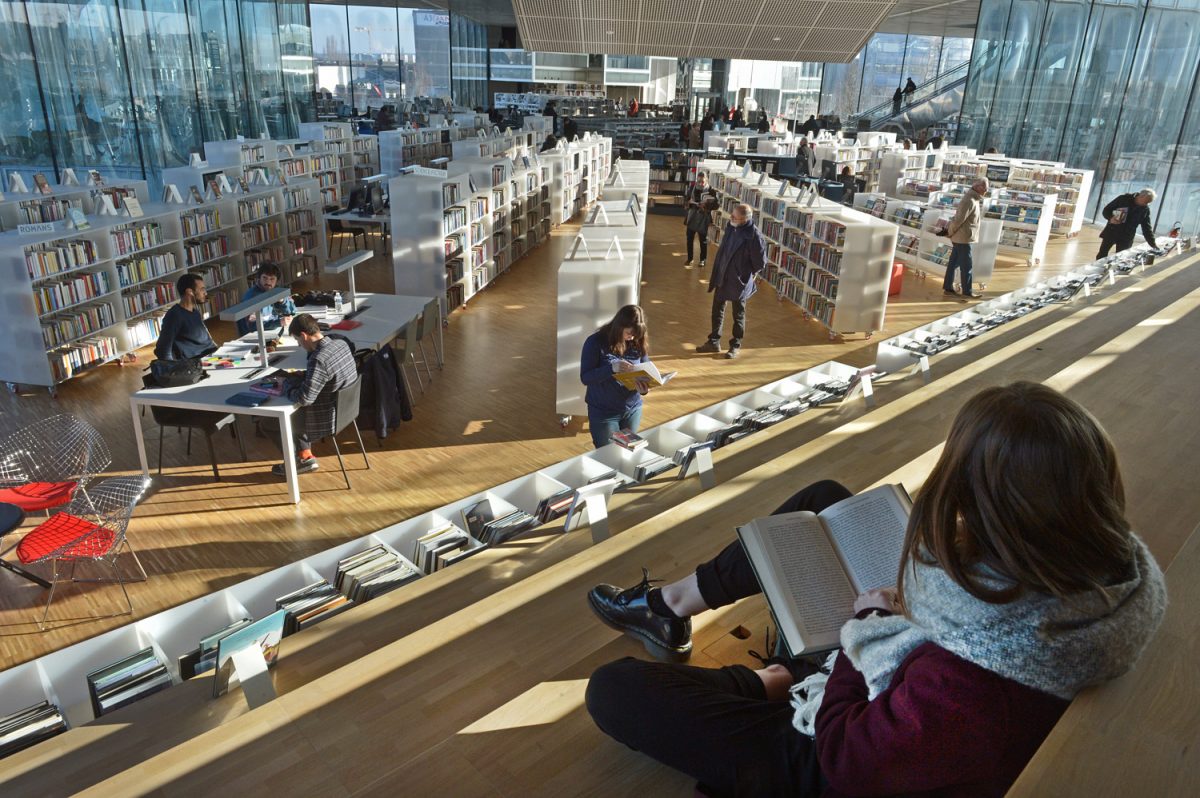 After discovering these bookstores, we went to the Alexis de Tocqueville library located on the peninsula of Caen. Opened for the first time in 2018, the architecture of the library is hyper modern, making you want to come inside to read and relax! Behind the large bay windows and the view on the Saint Pierre pond, we enjoyed our books. And if reading opens your appetite, you should try the Table des Matières, a brasserie inside the library.
In a different style of library, we went to the IMEC library (the Institutefor Contemporary Publishing Archives) located a few kilometres from Caen, inside the former Abbey of Ardenne's church. A mix of serenity and modernity in the filing and conservation facilities was felt as soon as we opened the door. But we won't spoil the pleasure and let you discover it by yourself. This place of interest can be visited during temporary exhibitions or during guided tours.An unusual must-see!
Library events
During the month of May, the Book Fair Epoque in Caen is a major event in the field of French literature. For two days, fiction and non-fiction authors gather to discuss and debate answer big society and contemporary questions. Apart from that, there are also many different organizations which propose workshops, meetings, shows, and thrilling debates that will please reading enthusiasts.
Every year in April, the festival "Des planches et des Vaches" which takes place in Hérouville-Saint-Clair, welcomes comic enthusiasts. From all over France, authors and illustrators come to celebrate comic books. And let's not forget the rendez-vous "Bloody Fleury" starts in March at Fleury sur Orne for the enthusiasts of suspense and thriller novels.
We like
The calm and serene atmosphere of Caen's bookshops
Activities at the Alexis de Tocqueville Library, encouraging people to share and meet each other
Epoque : the Caen Book Fair in May